Brian and Char Adames / Buyer
"Relocating to Bellingham was made easy by first researching the market,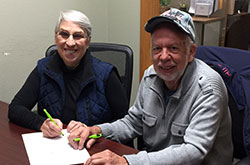 contacting local residents and a pattern emerged, one name started popping up, head and shoulders above any other agent and that name is Lesli Beasley.
"Coming into a hot real estate market last summer would be a challenge for anybody, but not Lesli, for she navigated the rough waters and disappointment of being out bid in what we thought was our dream house to very quickly finding us the right builder who turned our dreams into reality.
"The professionalism and experience that Lesli Beasley brings to the table, was evident from the first meeting with our builder, through the design changes to final completion, Lesli was there, guiding us through uncharted waters, making it look easy.
"Lesli Beasley is the most professional real estate agent in the Bellingham area, who cares for her clients, looks after their dreams of purchasing a new home and moving into a new community with ease.
"Thank you Lesli, you have become a valued and trusted friend."
---
Lynda and Ray Engle / Buyer & Seller
"My husband and I highly recommend Lesli to anyone looking to buy or sell real estate in Bellingham, WA. She has helped us with 3 real estate transactions by being most hardworking, honest and present every step of the way."
---
Sue Heim and Susan Jinivisian / Buyer
"She puts the fun in buying a home! Of course as with any large purchase like property, one has all the inevitable stresses and unending questions but with Lesli by your side you undoubtedly have a smile on your face while going through the process. She is light hearted, a joy to be around and boy does she know Bellingham and the surrounding areas."
---
Beverly and John Wills / Seller
"The best part of my experience selling my Bellingham home was meeting you and doing business with you! Thank you for lending your experience and expertise! I wish the best for you in the year to come and that you prosper in your business.
"Be well and enjoy life to the fullest!"
---
Pete and Virginia Koker / Seller
"We enlisted Lesli to help us sell our home in Ferndale in the spring of 2016. Since we had been in our home for 36 years, we had no idea about the process of selling a house in today's market. Lesli was very instrumental in helping us through this. Our major concerns about the sale as stated to Lesli were a fast sale, since we had already purchased a new home, and a fair value. After some discussions with her we listed the house at what we felt was a high value, but she assured us that it was reasonable. She walked us through the process of inspections, repairs and all required paperwork. We got our first two, full value offers, within 4 days. The house closed on schedule. I would recommend her to everyone thinking of buying or selling a home."
---
Joyce and John Pedlow / Buyer & Seller
"We had the pleasure of working with Lesli as both buyers and sellers over the past couple of years. Lesli's approach is thorough and professional.  She helped us assess the market, advised us on the transactions and most importantly, got them both closed in a very timely manner. Lesli had solid offers on the property we sold during the first week of listing."
---
Bryant and Susan Paulsen / Buyer
"We highly recommend Lesli Beasley to you when you consider choosing a real estate agent to represent you in your search for, and purchase of, your home in the greater Bellingham area.
"So you think you know yourself when it comes to the Bellingham real estate market and that perfect home that you're seeking? Guess again! Lesli will reveal to you the house out there that best fits your needs, wants, and desires with a laser-like focus.
"She located a home for us that was a perfect match for our retirement home, and Lesli made the entire home purchase extremely pleasant, too."
---
Penelope and Joseph Salz / Seller
"We had the fortune of selecting Lesli Beasley as our real estate agent for the sale of our home in the Silver Beach District in Bellingham. From beginning to end, Lesli gave us 100% of her professionalism and knowledge of the Real Estate business in Bellingham and in the State of Washington. She was dedicated and devoted to the success of the sale of our home throughout the entire process and to our fullest satisfaction. She provided us with her expertise and dedication; from the preparation and staging of our home until the closing, with ease and comfort. She even went beyond her duties by assisting us with last minute repairs, and providing us with her professional contacts to making the home appealing to prospective buyers when we were out of the state and busy with our relocation; all of it at a minimal cost and in a timely fashion.
"Lesli is a reliable, trusting, dependable, perseverant, dedicated and knowledgeable real estate agent. We recommend Lesli whole-heartily as the best real estate agent in Bellingham!"
---
The Rileys / Buyer
"How pleased John and I were to have Lesli represent us during our recent home purchase. As newcomers to Washington, she answered our many questions and concerns thoroughly and honestly. We greatly appreciate the many hours Lesli spent viewing homes with us. With her many years of expertise as a professional real estate broker, the transaction went smoothly.
"We sincerely believe we acquired a new friend when we met Lesli and trust we will remain friends for many years."
---
Nancy Joseph / Seller
"When I hired Lesli to sell my mother's house I told her that I wanted to sell it quickly, at a good price, with minimum expenditures to get the condo ready for sale. First she changed the furniture placement which opened up the living space-it felt like a new house. She gave me a list of changes that needed to be completed prior to putting the house on the market, and put me in contact with a house painter. We spent less than $2,500 on improvements, but they made a big impact. Lesli held an open house about two weeks after I first contacted her. We received two offers and closed on the house after a total of about five weeks from my initial contact with Lesli!
"Lesli was easy to work with, was available for my questions, and met with me, when needed, on my schedule. She took care of the details, like working with the condo association and the escrow agent. She met all of my criteria when she listed the house. I am glad that I chose Lesli to list the house and I would definitely recommend Lesli to my friends."
---
Beth and Brian / Buyer
"We have known Lesli now for over three years. She has helped us to find and purchase two homes. What makes Lesli stand out from other realtors is her genuine care for her clients.
"When we first moved to Bellingham Lesli went out of her way to show us many homes in various areas of town, in order to give us a feeling for where we wanted to live. We must have looked at nearly 100 homes, lots, and properties both in the city and in the county. It took lots of looking and though you would think she would tire of our indecision, Lesli was always full of smiles and enthusiasm. Not only do my husband and I appreciate all Lesli has done for us but our kids also adore her. During all our time together she always took time to talk with the kids and be silly with them.
"Lesli has been with us along our journey in making our dream of owning a farm a reality. We would not hesitate to recommend her to others who are out chasing a dream for a home that perfectly fits their lifestyle. She will go above and beyond for her clients."
---
Sita C. Amba-Rao / Buyer and Seller
"Lesli Beasley helped us both in the sale and purchase of our homes in Bellingham. The sale of our home came at a difficult time, when house sales were not moving. Lesli patiently worked through the process with no stone unturned. Her tireless energy in pursuing every possibility is greatly appreciated. For our new home we needed a single level model and we were eager to move quickly. Lesli had the right contact and found a nice, suitable home in the same neighborhood we wanted in a very short time.
"Lesli's pleasing and helpful manner (navigating all the details) and her professional yet personal approach made for a smooth transition in the move. I would definitely use Lesli's services again, and recommend her highly for any of our friends."
---
Ariel and Ted Deer / Buyer and Seller
(Testimonial from daughter)
"Lesli has been our family angel! Moving is always stressful and even more so with aging parents. Lesli made things so easy for my sister and I to help our parents move from a home that was no longer suited to them to a beautiful condo with an amazing view of Bellingham Bay! Lesli quickly found full-price buyers and was so helpful in facilitating the move.
"Lesli is very in-tune with the 'aging' market and gave us quite a few helpful pointers while moving out and moving in. The condo she found for them is beautiful and perfectly serves their needs. She spent so much time patiently looking at other places with us (while knowing all along that the first one she showed us was the perfect fit!) She helped us with furniture floor-plan ideas and even took us into the condo and used masking tape to suggest the best layout. She had excellent referrals for construction specialists (carpet, paint, etc) and was very savvy with helping us balance out costs vs. the condo value and which improvements would garner the most profit down the road.
"I would use Lesli again in a heartbeat and have and will continue to recommend her to others!"
---
Hope and Bob Rendleman / Buyer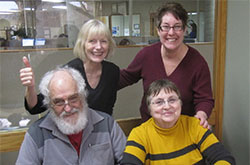 "When we decided it was time to downsize I cold-called Lesli after looking over her informative brochure. I wasn't disappointed. She turned out to be the perfect realtor for us. She listened carefully to what we were trying to achieve in downsizing and went right to work finding several properties for us to peruse. She ended up finding more than one property that would achieve our goal of simplifying our life and would suit our needs as we age. We decided on a condo that seemed ideal for us but needed a great deal of TLC. She provided us a list of folks who were/are experts in their field for the remodel and was available anytime to answer questions or sort out the paperwork. Now that we are settled we pride ourselves on having made the perfect choice in selecting a realtor.
"If anyone is wanting to buy or sell a property Lesli is the ideal choice."
---
Barb and Howard Evans / Seller
"Lesli Beasley has been our friend for many years, so when we decided to sell our home in Edgemoor we decided to call Lesli to help us. Having worked in the Whatcom Symphony office with Lesli I knew she would work very hard to sell our home.
"Not only did she help us with the staging of the house, but her pictures and description of the house showed it in its best light. After the house was listed she made sure as many people saw it as possible. Due to her considerable efforts the home sold in a week and for more than the asking price.
"Lesli did a great job leading us through all of the paperwork that goes with selling a home as well. You cannot find a more knowledgeable and hard working person to help you with the sale or purchase of your home and, the icing on the cake - she is fun to work with!"
---
Marcela and Mike / Buyer
"Our family are deeply rooted in Texas and just the word "relocation" frightened us. Until my daughter Debbie, who lives in Fairhaven, dispelled our fears and said, "Lesli Beasley is the lady for you. She will stick with you all the way to find the house of your dreams!" The day I thought that there was no house appropriate for our needs in Bellingham was the moment she truly geared up her efforts to find us the one and only builder who was willing to redraw a house plan with our specifications. Lesli was the untiring and ever patient bridge who made our dream house a reality. After six months in our home, she still gives us that wonderful and warm caring of a mom. She also has become a reliable friend!!!"
---
Libby Kemp / Buyer and Seller
"I worked with Lesli Beasley to sell my country horse farm and find a smaller perfect home in Bellingham. Her professionalism and attention to detail and to my needs made working with her a dream. From the listing of my property to the final signing of papers, Lesli was there with her expertise and warmth. She knows and loves the area and wants to find the perfect fit for her clients. And that's exactly what she did for me.
---
Linda Scoboria / Buyer and Seller
"Lesli helped with both the purchase and sale of a home here in Bellingham for my elderly mother. My mother and care-taking sister moved to Bellingham from Sequim in the fall of 2012 in order to be nearer to the family.
"Lesli made the home purchase simple. My sister, who has Power of Attorney and would be handling the business and legal end of the purchase, had never before purchased a home. My husband and I assisted in any way we could with details that came up in the purchase, as we are Bellingham residents. We acted as a go-between for my mother and sister while they were still in Sequim.
"Lesli worked hard taking care of each and every detail meticulously and kept the process simple at all times. My sister was presented with step-by-step instructions as each part of the process came up. Nothing was overwhelming for my sister. It was really easy. Lesli did all the work.
"Unfortunately, my mother wasn't able to live in her new home for more than one year. Not only had my sister not experience buying a home, she also had never sold one. Again, Lesli streamlined the process, finding ways to minimize travel for my sister for the legal and business details of selling a home. By now, my sister had moved out of town.
"Lesli's quick attention to an interested party sold the home before it was put on the market. Due to the expedient sale of this home, we were able to get top dollar. The prices had fallen in just one year for homes in this neighborhood. We feel very lucky and know that we did well because Lesli understands the market and puts the interests of her clients first and foremost. The sale of this house was even easier than the purchase. Lesli is a true professional and knows her business."
---
Linda and Chris Benafel / Buyer
"When my husband and I were relocating from Southern California, it was very stressful. You made everything easy and smoothed the way. Not only did I feel that I was working with a pro, you are also personable and easy to talk to. Working with you was like working with a personal friend.
"Knowing what my interests are, you introduced me to the local symphony, local art movie theater, restaurants, and other events in the area. You've enriched my experience in living in this beautiful part of the country."
---
Judy Corliss / Buyer and Seller
"Lesli was my Real Estate agent for the sale of my house and the purchase of my condo in 2013! She handled both in a very professional manner, providing me with lots of help during a stressful time. She is enthusiastic about her work and strives hard to give her clients the best service. I can highly recommend her!!"
---
Brent and Joan Allen / Buyer and Seller
"We have enjoyed knowing Lesli since we were neighbors several years ago.
"To describe Lesli, several characteristics stand out; she is passionate, hardworking, and is a woman of integrity.
"There were a couple of times through the years that we almost purchased a new home. In one instance we simply changed our mind. In another instance things seemed uncertain and Lesli sent her own inspector to check out the house. There were some issues and we decided not to purchase the house.
"Though it would have been advantageous for Lesli to make a sale, she put our needs and wants first and didn't pressure us. She said she wanted us to be happy and of course to have a 'sound' home.
"When we did finally list our home, she sold it in 3 days and helped us purchase a wonderful new home. Lesli watched out for our interests and gave us '110 percent.' We would highly recommend Lesli to handle your real estate needs."
---
Barb and Norm Scheaffer / Buyer and Seller
"As seniors well into the 50+ category, we knew that downsizing was in our future, but we couldn't seem to commit to a timeframe. Other than checking into what was available through open houses, we had no plan.
"It was at an open house that we met Lesli and talked with her at length about our intentions. We were immediately impressed with her knowledge, professional training and common sense approach to making a move to a smaller home. Her remark, 'You need to make the move when you can, not when you have to,' was the nudge we needed; that, and her assurance that she would guide us through the process of both finding a condo that was right for us and of selling our current home. Not only did she find the perfect condo, but she devoted all her time, or so it seemed, to making sure the buying and moving process went smoothly; she knew just when to step in to speed up the process or avert a potential problem. She was a great resource for the services we needed during the move and even provided a color consultation for the paint at the new condo based on her past experience in interior design.
"When she took on the task of selling our house her years of experience and professional training quickly netted results, despite the slow economy. Within four days of our house being listed we received two offers, one at our full asking price. Again, she held our hands throughout the process and kept us informed every step of the way, always looking out for our best interest.
"We can highly recommend Lesli as a buying or selling agent. Not only is she an experienced professional that gets the job done, but she is a delight to work with. We love our new home and are so proud of ourselves for having made this move before it was a necessity. We definitely have Lesli to thank."
---
John Brown / Buyer
"We worked with Lesli Beasley in buying a home on the Southside of Bellingham, and we found the experience very enjoyable. Lesli stayed closely in touch with us throughout the extended period of negotiations with the seller and the arrangement of bank financing. We always felt that Lesli's word was dependable and that she was working hard to bring the deal to closure. All in all, we are very happy to commend Lesli's expertise in making a deal work. Professionally, she is top of the line. Personally, she is a delightful friend!"
---
Sarah Jacobson / Seller
"When I told friends I was putting my house on the market in this economic climate, they said I was crazy! However, Lesli assured me that because I had a great house in a great neighborhood and willing to price it at a reasonable level, it would sell...my house sold in three days! I was impressed with her thoroughness and marketing savvy. I can't image a better choice in an agent."
---
Brock and Julie Hochsprung / Buyer and Seller
"We write this letter to thank you for your total involvement with our real estate needs. Words will not truly convey our deepest thanks for all that you have done for our family.
"Ten months ago we met you at an open house and we hit it off. You are very approachable; open to ideas and easy to talk with. During this time, we weren't thinking about moving, just checking out the market to possibly remodel and stay put. When you offered to come to our home and give us your professional opinion and find comparisons in our neighborhood, it helped us clearly discuss our options to make the best choice.
"When we finally decided to put our house on the market, you made it happen smoothly. Your experience with interior design was a huge help in the staging process.
"With the amount of houses we were looking at, you made our house hunting manageable and fun, not minding that the kids were a big part of our decision, and showing us homes at the drop of a hat. We thank you for your never-ending devotion, constant caring, dedication, flexibility, professionalism, sensitivity, and willingness to go the extra mile.
"We can truly say our experiences in working with you were extremely positive and we would highly recommend you to friends and family. We look forward to many memorable times together at our new house."
---
Lynda and Ray / Buyer and Seller
"Ray and I want to share with you how much we have appreciated working with you on the former purchase of our condo and the current sale of another condo. You have consistently demonstrated a high level of integrity, service and attention to detail. We can't think of anyone who would work harder on our behalf.
"We recommend your services without reservation."
---
Bernie Dorman / Seller
"My wife died a year ago and living in my 4,000 Sq. Ft. home was very lonely and becoming more difficult. The thought of selling was so overwhelming that I just kept putting it off. Then I met Lesli Beasley.
"Lesli was so caring. She listened to my concerns and made sure that all of my questions were answered. She actually told me that she would not sell my home until I knew exactly where I wanted to move. It was important to her that I not only felt comfortable about selling my home, but felt comfortable about where I was going to live.
"Lesli took me to the Parkway Chateau to see what they had to offer. I decided to stay for a five day free trial to see how it would be living there. I absolutely loved my stay and decided that was going to be my new home after I sold my home. I put a deposit on the apartment that I wanted and Lesli measured it and drew it out to scale for me to see what my furniture would look like in the apartment. This really made my move so much easier because I knew what furniture was going to my new home and what furniture needed to be sold.
"Lesli helped take the stress out of my move by giving me names of Estate Sales professionals to interview and a person to help me decide what items I would either throw away or donate to various charities. I could not have done it without the help. She made sure that my two sons who live in Florida knew everything that was going on. My two sons really appreciated all of her extra efforts.
"Lesli made sure that my home was in perfect order before she put it on the market so that I would get top dollar for my home, and it worked."
---
Norma and James Rowlan / Buyer and Seller
"I truly believe we found the right realtor for selling my family's Estate as well as finding our perfect little home in Bellingham. Your constant willingness to meet us at a potential house was amazing. Because of your client dedication to us, we were able to view and put the first offer down on our new home which had only been on the market for 2 or 3 days. I have highly recommended you to everyone I know who's looking to buy a house and will continue to do so."
---
Joseph R. Hugill / Buyer
"Lesli Beasley assisted me in recently purchasing a condominium as part of my relocation to Whatcom County. I was most impressed with her tenacity, eagerness to please, and knowledge of real estate in the Bellingham area and surrounding towns. I could not be happier with the service I received from Lesli and highly recommend her to anyone looking for residential property in Whatcom County, especially condominiums."
---
Lissett Muhr / Buyer
"I bought my house a couple of years ago. I was moving from Seattle to Bellingham and Lesli was there every step of the way. She handled any situation that came up with my best interest being her first priority. After the sale of the house she was a great resource and I still call her to get advice and contacts regarding the care of my house. It's nice having a realtor that you can depend on and truly cares."
---